People often say that we are all gods children. After that, someone will probably say something like:"What was that god thinking about while creating any of those shown below?" Well, maybe even he had to take a rest from time to time and leave the course of nature on its own. But maybe they are his children, his truly children that have stepped  out of heaven and came to earth to suffer for us, to suffer to make us smile, to suffer so that our children could go to circus, watch them and laugh at them.
Schlitze Surtees, Schlitzie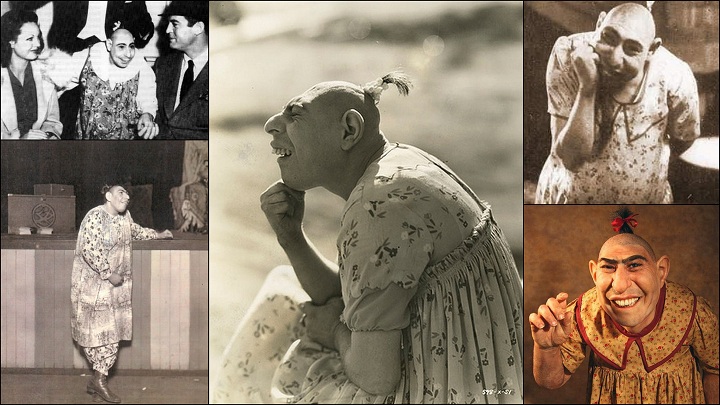 Schlitzie, possibly born Simon Metz , and legally Schlitze Surtees , was a American sideshow performer and occasional actor, best known for his role in the 1932. movie Freaksand his life-long career on the outdoor entertainment circuit as a major sideshow attraction with Barnum and Bailey, among others.
Schlitzie's true birth date, name and location is unknown; it is commonly accepted, at least by what was inscribed on his death certificate , that he was born on September 10, 1901 in New York, though 1892 has also been considered as a possibility.
Schlitzie was born with microcephaly, a neuro developmental disorder that left him with an unusually small brain and skull, a small stature (he stood about four feet tall (122cm)),myopia and moderate to severe mental retardation. It was said Schlitzie had the cognizance of a three year-old: he was unable to fully care for himself and he could only speak in monosyllabic words and form a few simple phrases. However, he was still able to perform simple tasks and it is believed that he could understand most of what was said to him, as he had a very quick reaction time and the ability to mimic.  Those who knew Schlitzie described him as an affectionate, exuberant, sociable person who loved dancing, singing and being the center of attention, performing for anyone he could stop and talk to.
On the sideshow circuit, microcephalics were usually promoted as "pinheads" or "missing links", and Schlitzie was billed under such titles as "The Last of the Aztecs", "The Monkey Girl" or simply"What Is It?", or was paired up with other microcephalics. One notable example of the latter was Schlitzie's possible pairing with a microcephalic woman named Athelia, exhibited together as "Aurora and Natalia, the Aztec sisters". This has led to claims that Aurora actually was Schlitzie's sister, but these claims are unsubstantiated.
Schlitzie was often  presented as a female or left androgynous to add to the mystique of his odd appearance. Those who knew him alternately referred to him as "he" and "she". The sideshow circuit was a tremendous success for Schlitzie, and throughout the 1920s and 1930s, he was employed by many upscale circuses. In 1928, Schlitzie made his film debut in the The Sideshow, a drama that took place at a circus, featuring a variety of actual sideshow performers including himself. In 1932, Schlitzie landed his most known role as an actor in Tod Browning's iconic horror film Freaks.
The appearance of Freaks' cast proved extremely controversial on its original release, and the film was ultimately a financial failure. Additionally, it was banned for thirty years in the United Kingdom and Browning struggled to find work following its release, his last with a major studio.
In 1935, while Schlitzie was performing with the Tom Mix Circus, George Surtees, a chimpanzee trainer also appearing at the show with a trained chimp act, adopted him, becoming Schlitzie's legal guardian. In 1941, Schlitzie appeared in his final film role as "Princess Betsy".Under the care of Surtees, Schlitzie continued performing the sideshow circuit until Surtees' death in the early 1960s, after which Surtees' daughter, who was not in show business, committed Schlitzie to a Los Angeles county hospital.
Schlitzie remained hospitalized for some time until he was recognized by sword swallower  Bill Unks, who happened to be working at the hospital during the off-season. According to Unks, Schlitzie seemed to miss the carnival dearly, and being away from the public eye had made him very sad and depressed. Hospital authorities determined that the best care for Schlitzie would be to make him a ward of Unks' employer, showman Sam Kortes, and return him to the sideshow.
On September 24, 1971, at the age of 70, Schlitzie died from bronchial pneumonia at Fountain View Convalescent Home. His death certificate listed his official name as "Shlitze Surtees" and his birth date as 1901. Schlitzie's grave remained unmarked until August 2008, when members of the website www.findadeath.com raised almost $400 to purchase him a proper headstone, which displays his name as "Schlitze Surtees" and his birth date as September 10, 1901.
Jack Earle, "The Texas Giant"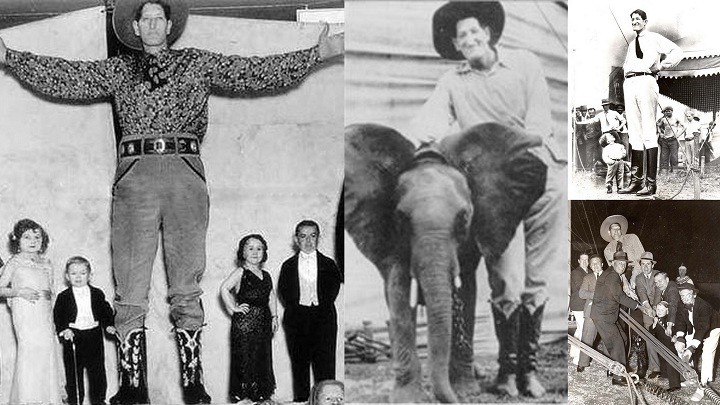 Jacob Rheuben Ehrlich was born in Denver in 1906 to German Jewish immigrants and raised in El Paso, Texas. Average-sized as a boy, Jacob fell from a truck at the age of 14 and suffered a head injury, which doctors believed aggravated a tumor on his pituitary gland. He went blind for four months following the injury and then began growing uncontrollably, ultimately reaching 7'4″ (though he claimed to be 8'6″). Determined to live a normal life despite his size, however, Jacob graduated from the University of Texas at El Paso (UTEP), the tallest person ever to graduate from any University of Texas school.
After he graduated from college, Jacob, using the name Jack (or Jake) Earle, made his first stage appearance in 1924, when he wrote and starred in a version of Jack and the Beanstalk. He also portrayed the father in a stage adaptation of Hansel and Gretl. When the Ringling Bros., Barnum & Bailey Circus came to El Paso, some of Earle's friends challenged him to go see just how tall their giant was. Earle, not surprisingly, was taller, and was hired on the spot. In the circus, one of his jobs was training the show's pygmy African elephants Buli and Nuba. He sold thousands of his "lucky" giant's rings for a quarter apiece; for years after he left the circus, when he met someone who still carried one of the rings, he would offer to buy it back if it hadn't brought the person good luck.
Earle went on a tour of Australia in 1940 with Ringling Bros. When he returned, he found that he had grown disenchanted with the life of a circus freak, and was quite fed up with being asked, "How's the weather up there?" A friend of his, an employee of the California-based Roma Wine Company, persuaded Earle to take a three-month promotional tour with the company. Earle enjoyed the job so much that he decided to stay. The "world's largest traveling salesman", outfitted in a customized Pontiac, made a lasting impression on every customer by handing out nine-inch-long business cards. During World War II, turned down by the Armed Forces because of his height, Earle traveled the country lecturing on the importance of the American wine industry during times of hardship in Europe.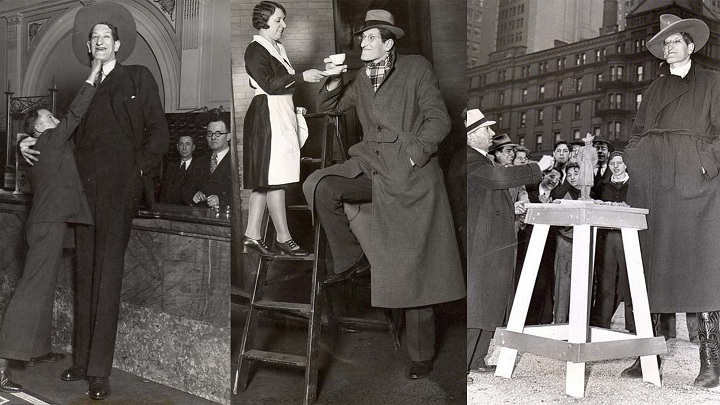 A quiet and intellectual man, Earle enjoyed sculpting and painting landscapes and still-lifes and even earned himself a gallery exhibition in New York City in 1936. Circus manager John Ringling North, Earle said, had been so impressed with Earle's clay bust of "Clicko the Bushman" (Franz Taaibosch, a mentally handicapped South African man) that he paid to send his giant to art school. Earle was also a talented photographer, poet and playwright, and an enthusiastic fisherman and golfer.
Earle retired to an El Paso ranch in 1951, where he spent his spare time visiting children's homes and entertaining the children with stories of magical giants. He died on July 18, 1952, in an El Paso hospital after six weeks' illness.
Joseph Carey Merrick, "The Elephant Man"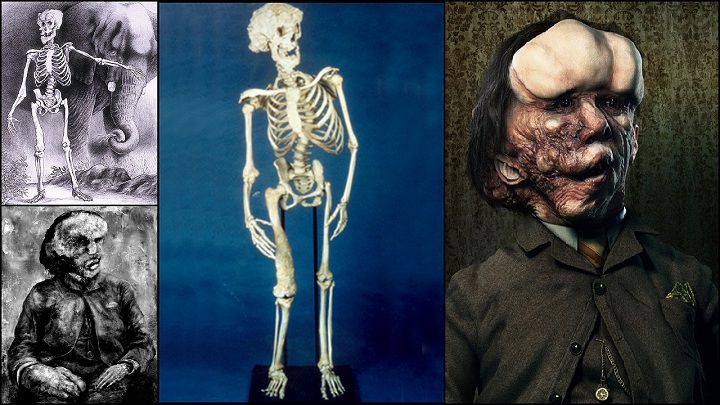 In 1980, David Lynch's masterpiece The Elephant Man was released. The film told the story of John Merrick, a tragically deformed yet charming and intelligent Englishman. When it hit the screens in 1980, it became a cult hit with sufferers of neurofibromatosis, the disease that the Elephant Man was thought to have had. Previously, it was though that he suffered from elephantiasis, a tropical disease causes by parasites in the bloodstream. However, it was suggested in 1979 that Merrick had Proteus syndrome or "Elephant Man's Disease", which causes abnormal, unchecked growth of bones, skin, and other systems. Fewer than 100 cases of Proteus have been recorded, while NF occurs in one in every 4,000 births. No condition has ever produced a degree of deformity equivalent to Merrick's.
Joseph Carey Merrick was born in Leicester, England in 1862. He began growing disfiguring tumors before the age of two and his condition rapidly worsened, rendering one of his arms completely useless. Nevertheless, he was described as a wonderfully imaginative and intelligent boy. When Joseph was 11, his mother, Mary Jane, who was also physically handicapped, died, and Joseph's father remarried. Joseph's stepmother was not nearly as compassionate as his mother, and she even gave Joseph's father an ultimatum: "Joseph, or me." The young Joseph was cast out of the home and went to live at the Leicester Union Workhouse, and sold shoe polish on the street. However, he was constantly taunted by crowds of cruel children and soon moved on to another line of work.
Joseph's attempt to find traditional work were unsuccessful. Sick with bronchitis, and requiring surgery due to the intrusion of tumors into his throat, Joseph would very likely have died on the streets of Leicester, if it weren't for a compassionate showman named Tom Norman. Norman was the UK's answer to P.T. Barnum, and in fact received his nickname, "The Silver King", from the legendary American impresario because of the flashy silver jewelry he wore. Finding himself out of options and desperate for medical care, Merrick pitched himself to Sam Torr, another showman, who in turn introduced him to Norman. Norman paid for the operations Merrick required and helped Merrick become a successful museum freak. Under Norman's tutelage, Merrick accumulated 200 pounds, a large sum of money at the time. However, while touring Belgium, Merrick became separated from his guardian. Naive and sickly, he was a perfect target for robbers, and an unscrupulous Austrian (some say Italian) showman tricked him out of his small fortune.
Returning home from Belgium, Merrick was discovered in the Liverpool train station by Dr. Frederick Treves, who had previously seen Merrick on display in a medical school. Merrick was suffering from bronchitis and malnutrition, and Treves brought him back to the Whitechapel Hospital. The hospital became Merrick's permanent home; in his room he wrote poetry and prose and built models from card stock, his most famous being of the St. Philip's cathedral in Birmingham, which Merrick had never seen but constructed from studying architectural drawings. While living in the hospital, however, Merrick became a freak of a different sort. Treves exhibited him before classes of medical students, where he stood naked before leering crowds and was subjected to humiliating examinations. It became fashionable among members of London's upper class to visit the Elephant Man and mask their disgust as the conversed with the intelligent and well-spoken man. His visitors brought him all sorts of gifts, including a beautiful shaving set, which of course Merrick could not use because of the condition of his skin. He even struck up a pen-pal relationship with a famous actress of the day, who promised she would come see him, although she never did.
As Merrick became more comfortable with other people, he was taken on outings and even went to the theater. He shook hands with people and spoke to strangers, even women, with ease. Unfortunately, his newfound sense of self-respect came too late, and he died in his sleep in April 11, 1890. Rumors spread that the Elephant Man had been murdered, but Dr. Treves dispelled these, revealing the true cause of Merrick's death to be asphyxiation. He had attempted to sleep lying down, like a "normal person", and the weight of the tumors on his head and neck had crushed his trachea.
"Tis true my form is something odd,
But blaming me is blaming God;
Could I create myself anew
I would not fail in pleasing you.
If I could reach from pole to pole
Or grasp the ocean with a span,
I would be measured by the soul;
The mind's the standard of the man."
- Joseph Merrick
Carl Hermann Unthan
Carl Hermann Unthan was born in East Prussia in 1848. The family midwife wanted to smother the armless child at birth, but his father prevented it. When Carl was a child, his father let him go barefoot so he could use his feet to grasp things and learn to perform other tasks such as writing. He took up playing the violin and at age 20 played for Strauss in Vienna. A huge success, Carl Unthan became a vaudeville performer and toured the United States, Cuba, Mexico and South America. His act consisted of everyday tasks performed on stage: pouring a drink, shuffling cards and doing card tricks, swimming in a tank, loading and firing a rifle, and smoking a cigarette, in addition to violin playing. Often he would purposely cut a string on the violin, and then repair it with his toes. During World War I, Carl joined the German Army and travelled to various hospitals, giving motivational speeches to people who had lost limbs in the war.
He starred in a film, The Armless Man, in which he showcased his swimming ability by rescuing a woman from drowning, and wrote an autobiography, Das Pediskript (or, The Armless Fiddler: A Pediscript Being of a Vaudeville Man), published in 1935, several years after his death. Carl preferred to be known for his music, not as an oddity. He retired a wealthy man and died in 1928, at the age of 80.
Johnny Eck, "The Half  Boy"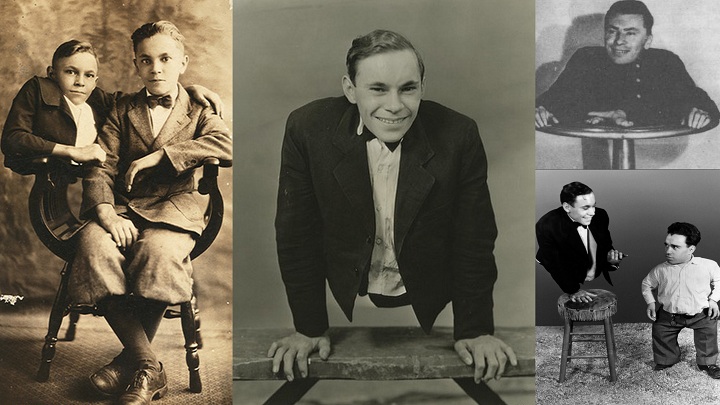 Johnny Eckhardt was born in 1911 with a horrifying birth defect leaving him with no body below his chest. Despite this handicap, his need for speed could not be contained. This is his amazing story.
Twenty minutes after his twin brother was born, Johnny Eckhardt Jr. entered the world. It was August 27, 1911, born with only half a body, the wet nurse performing the delivery declared him "a broken doll." Though his brother Robert was perfectly normal, Johnny was born with a truncated torso and appendicular legs as the result of a rare condition called Sacral agenesis; He weighed two pounds and measured less than eight inches at birth. A lesser person would have allowed this kind of start to color their entire life, but not Johnny. At the same age as other children begin to walk upright, he learned to walk on his hands. He excelled in school right alongside his brother. He aspired to be a preacher, but his deformity led to other opportunities.
brother and performed in the freak show. He worked as "The King Of Freaks" and " The Half Boy," as incredible as that may seem, looking back on it from our politically correct present day. His love of showmanship, incredibly light weight and powerful arms led to seemingly incredibly feats of strength, they also led to disposable income. Despite the lack of legs, Eck loved all things mechanical, especially automobiles. With his circus earnings along with pay from odd jobs, Eck purchased a midget racecar and converted all the foot controls to hand operation. He even went so far as to have the car licensed for operation on the streets of Baltimore. Not only did he buzz around Baltimore in this crazy contraption, he raced it all over the eastern seaboard. The car was one of Johnny's greatest joys and although he went on to own others, his first was still somehow the best, much as it is for the rest of us.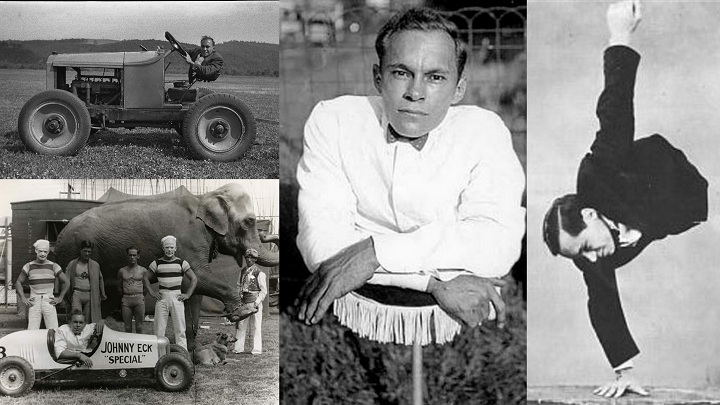 As the years went on, the brothers retired, living a quiet life in Baltimore where they assembled a miniature train system which was the delight of neighborhood kids, and Johnny returned to one of his childhood loves of painting. They were considered a pillar of the community. In 1987, a gang of thugs broke into the brother's house and held both elderly men down, beating them severely as they ransacked the home. The two withdrew from public life, shunning friend and relative alike. Following the incident, the formerly vibrant and optimistic Johnny lost faith in his fellow man and society in general, he was quoted as saying "If I want to see freaks, I can just look out the window." After four years in seclusion he died on January 5, 1991 at the age of 79.
It is unfortunate such a remarkable man ended his years in such a way, perhaps it says something about society at large when someone born with half a body considers everyone else a freak. Whatever the case may be,Johnny Eck was without a doubt an incredibly interesting fellow, and if any of you ever rely on some lame excuse as to why your project car is sitting untouched in the garage, consider it well and truly nullified.
Chang and Eng, "The Chinese Twins"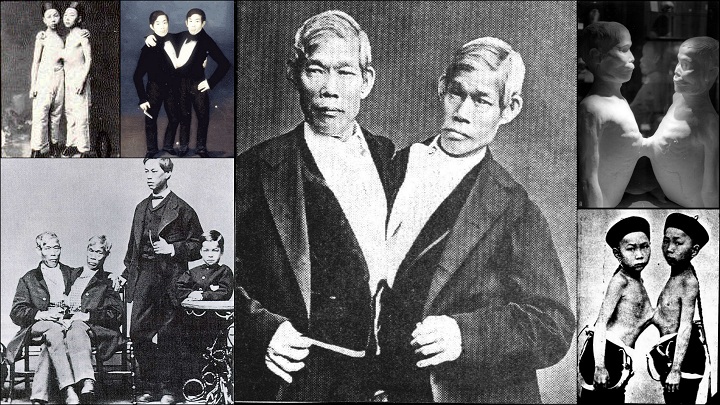 Born in Siam (now Thailand) in 1811, Eng and Chang Bunker were connected at the chest by a five-inch-wide band of flesh. The location of this connection suggested to some doctors and other observers that the brothers shared a heart or some respiratory functions. These medical assumptions would be proven wrong. According to their biography, the twins shared relatively "normal" boyhoods in Siam, running and playing with other children, doing chores, and helping to support their parents and siblings by gathering and selling duck eggs in their small village. Later, as teenagers, the twins left Siam and began a career traveling with two agents, Robert Hunter and Abel Coffin. Eng and Chang earned money by giving lectures and demonstrations throughout the United States, Canada, South America, and Europe. In fact, entries in their travel-expense journal, documents that they visited the campus of the University of North Carolina at Chapel Hill in October, 1834. In their far-flung travels, Eng and Chang became such popular celebrities during the 1830s that their promotion as "Siamese twins" were terms that were universally employed to describe connected or conjoined twins.
By the late 1830s, Eng and Chang tired of all their traveling, opting then to settle in North Carolina. There the brothers married two sisters, Adelaide and Sarah Yates of Wilkes County. The sisters were of European ancestry and were neither twins nor connected themselves. The couples were married in 1843 and would ultimately produce 21 children between the two families. Eng and Chang died in January, 1874, at the age of 63. Chang preceded Eng in death by about two and a half hours. An autopsy indicated that Chang died of a blood clot in the brain; and at the time Eng's demise was attributed, understandably, to shock.
Charles Sherwood Stratton, "General Tom Thumb"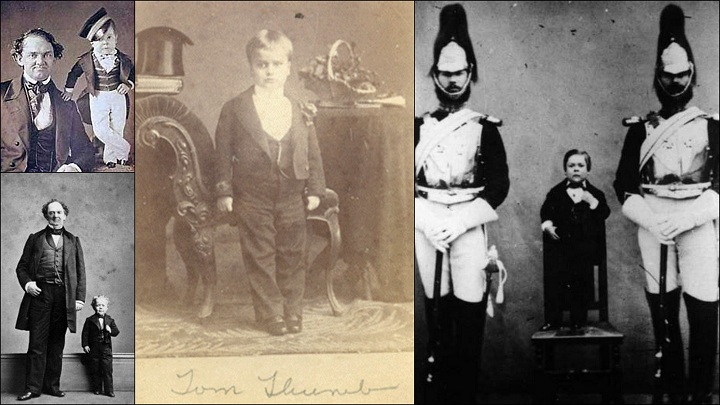 Charles Sherwood Stratton was born today in 1838. His birth weight was a hearty 9 pounds, 2 ounces. For the first 6 months of his life, Charles continued to develop normally. Then, quite suddenly, he stopped growing. On his first birthday, the boy's chagrined parents realized he hadn't grown an inch or an ounce in half a year. They took him to a doctor, who told them it was unlikely their child would ever reach a normal height (he mostly likely suffered from pituitary gland malfunctions). Charles was a little over two feet tall and weighed 15 pounds.
The embarrassed Strattons muddled along with their tiny son for four years until P.T. Barnum heard tell of the boy and negotiated with them to exhibit Charles on a trial basis in Barnum's own NY museum. The family was paid a princely sum of 3 bucks a week plus room, board and travel expenses for Charles and his mother.
Once back in New York, the entrepreneurial Barnum fell into an Ovid role to young Stratton's Pygmalion. They spent long hours together, transforming the four-year-old waif into General Tom Thumb, a doll-sized prodigy from some nonspecific European locale. The "general" was trained in courtly etiquette, song, dance, theater, celebrity impersonations and the rote memorization of dozens of sassy witticisms. Stratton excelled at mimicry, imitating a Scottish highlander, Hercules, Cupid and Napoleon, among others.
Barnum believed he'd struck gold. Sure enough, the American public was soon clamoring to see the wee thespian on stage, dressed to the nines in beautifully tailored costumes. In 1843, aged five, Stratton went on his first American tour and was a smash success. Not long after that, Barnum took Stratton to Europe. Stratton would appear twice before Queen Victoria at Buckingham Palace (on one of these occasions he was attacked by her pet poodle, which dwarfed him). He had achieved international stardom. His diminutive carriage was mobbed by crowds wherever he went.
Upon coming of age, Stratton married another little person, the delicate, raven-haired Lavinia Warren. Their lavish wedding ceremony in 1863 made front page news across the country. Stratton's best man was another Lilliputian employed by Barnum: George Washington Morrison ("Commodore") Nutt. The maid of honor was Lavinia's even tinier sister, Minnie. The newlyweds greeted their 2,000 guests from atop a grand piano in the posh NY Metropolitan Hotel and were later received at the White House by President Abraham Lincoln.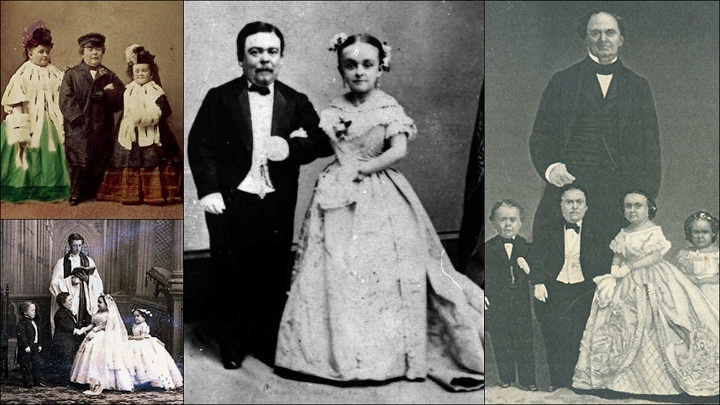 Under Barnum's management, Stratton had become a very wealthy man, with apartments in upper-crust Manhattan, his own steam-powered yacht, and a custom-built home on one of CT's appropriately named Thimble Islands.
Although Barnum never actually said that there's a sucker born every minute, he was quick to admit himself "a showman by profession… and all the gilding shall make nothing else of me." By presenting mutations and gaffs for purported educational and scientific purposes (wink wink, nudge nudge) Barnum reaped a king's ransom. His exhibitions of "human curiosities" like Stratton, Anna Swan, Chang & Eng and countless others are still well-remembered.
While his exploitative manner is offensive on many levels nowadays, such exhibits were quite common at the time. Some modern "freaks" have gone so far as to say that well-meaning human rights campaigns waged against Barnum's ilk in the last century actually harmed their livelihoods rather than helped them. In any case, it bears mentioning that Stratton and Barnum appeared to have shared a genuine kinship. When Barnum was in danger of going bankrupt, Stratton bailed him out. They later became business partners and were more successful than ever.
Stratton's later life was a darker sort of fairy tale. When Lavinia's beloved younger sister died painfully while giving birth to a full-sized baby, the childless couple grew depressed and withdrew from social life. Possibly due to continuing glandular problems, Stratton gained a large amount of weight and no longer bore any resemblance to the young Cupid he had played years before. Barnum tried his best to comfort them and coax them out of hiding, but on a tour in Milwaukee in 1883, a terrible fire broke out at the hotel the couple was staying in, killing 71 people. They were saved by their manager, Sylvester Bleeker, while Bleeker's own wife perished after jumping from a high window.
Stratton never fully recovered from this traumatic event. A few months later, while Lavinia was off on tour, he died of a stroke in his home. Ten thousand people attended his funeral. P.T. Barnum commissioned a life-sized statue of his esteemed General and had it placed at the top of Stratton's towering gravestone. When Lavinia died in 1919, she was interred beside him with an epitaph marked simply (if somewhat dismissively) "His Wife".
Check Out More Pages of This Post: Page 1 Page 2