Daisy and Violet Hilton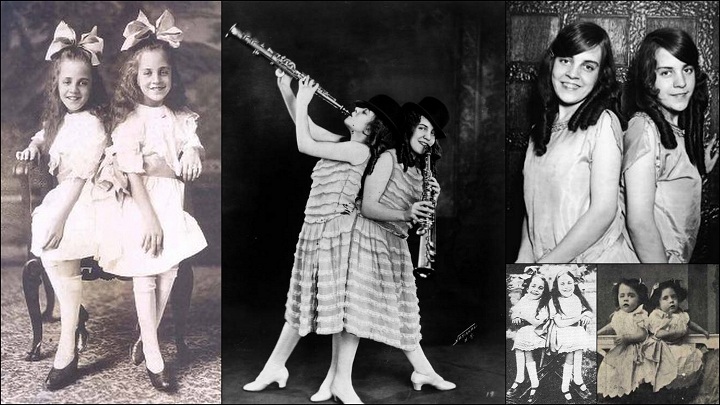 Daisy and Violet Hilton were born in Brighton, East Sussex, England on February 5, 1908 to a young, unwed barmaid, Kate Skinner. At the age of two weeks, the twins were "adopted" by Mary Hilton, their mother's landlady who was also their midwife. The sisters were pygopagus twins – conjoined at the hips and buttocks. They shared blood circulation and were fused at the pelvis but shared no major organs. Soon after acquiring the twins, Mrs. Hilton put them on exhibition. They were managed by Ike Rose of Rose's Royal Midgets fame and exhibited alongside Rosa and Josefa Blazek, probably the first time in history that two sets of Siamese twins were ever shown together. Daisy and Violet were later taken on an Australian tour with Mary Hilton, her husband Henry, and their daughter Edith. While in Australia, Edith married Myer Myers, a carnival balloon salesman.
When Mary Hilton died, she willed the twins to Edith and Myer. The Myers relocated to the United States and used part of the twins' fortune to built a luxurious, Frank Lloyd Wright-inspired home in San Antonio, Texas. Daisy and Violet spent the majority of the 1920s touring the United States on vaudeville circuits, playing clarinet and saxophone, and singing and dancing. The sisters were a national sensation, counting among their friends a young Bob Hope and Harry Houdini, who allegedly taught them the trick of mentally separating from one another.
By this time, it seems, the Hilton sisters had already become lightning rods for scandal. Seeking friendship outside the abusive Myers home, the twins befriended their advance agent, William "Bill" Oliver. Although the twins claim in their autobiography that their relationship with Oliver was strictly platonic, biographer Dean Jensen believes the twins were two of many mistresses of the smooth-talking promoter and that he slept with both of them many times. In any case, Oliver's wife Mildred accused him of "spending too much time" with them and filed for divorce, and attempted to sue the twins for $250,000. On the orders of Mrs. Myers, Daisy and Violet asked for the help of a San Antonio lawyer, Martin J. Arnold. Arnold inquired as to why the sisters, who were over 21 years old and legal adults, remained bound to Mr. and Mrs. Myers, and he was shocked to learn of their situation. He took on the twins' case in January of 1931, helping them file suit against the Myers to break their contract and legally separate from their abusive guardians. Judge W.W. McCrory decided the case in April, awarding the equivalent of nearly $80,000 to the sisters and allowing the Myers to keep their San Antonio home.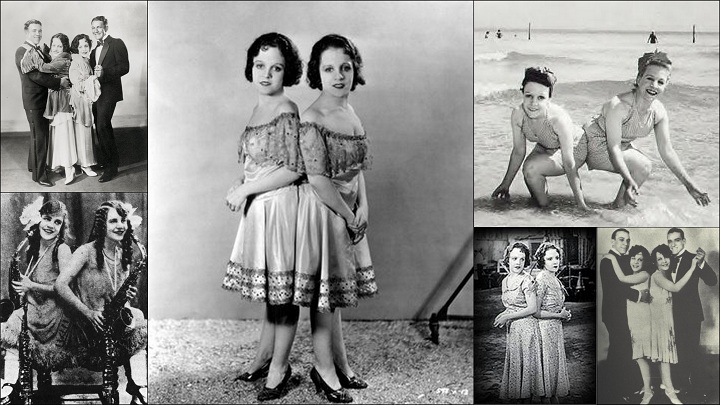 Newly emancipated, Daisy and Violet became citizens of the United States and returned to the only life they'd ever known: showbusiness. In 1932 they appeared in the movie Freaks, which dared to pose the question of whether or not conjoined twins can have a love life. Over the coming decade, it would become quite clear that the answer was yes. Violet, the more outgoing of the pair, had a string of celebrity boyfriends, including the musician Blue Steel, boxer Harry Mason, and guitarist Don Galvan, before becoming engaged in 1933 to bandleader Maurice L. Lambert. She and Lambert began a nationwide search for a clerk who would issue them a marriage license. Each of her requests – in 21 states – was denied on moral grounds, and lawyers were brought in to argue on Violet's behalf. One New York clerk refused to issue the license because Daisy was not also engaged. Though briefly engaged to Jack Lewis, another bandleader, she deemed him too shy for marriage to a Siamese twin.
Unable to get married, Violet and Maurice split. Two years later, however, the twins' agent Terry Turner announced that he could arrange for Violet to marry after all – she only needed a groom. Chosen for the role was Violet's dance partner and a longtime confidant of the twins, James Walker "Jim" Moore. The wedding, such as it was, took place on July 18, 1936, at the Texas Centennial Exposition on the 50-yard line of the Cotton Bowl. Daisy, too, got to experience wedded bliss when she married vaudeville dancer Harold Estep, stage name Buddy Sawyer, at Elmira, New York, on September 17, 1941. Their marriage lasted two weeks.
After the decline of vaudeville, the twins, like countless others, turned to Hollywood. In 1950 the sisters appeared in the film Chained for Life as Dorothy and Vivian Hamilton, vaudeville singers. In the film, Vivian takes a dislike to the musician who is courting her sister. Dorothy, on the other hand, is so smitten that she begs doctors to separate her from her twin so that she might marry. In the end, Vivian shoots and kills Dorothy's beau with a pistol grabbed from a sharpshooter's prop cart. The judge – and the audience – are left to decide whether to send innocent Dorothy to jail, or let guilty Vivian walk free.
Chained for Life was a colossal failure, banned in many places due to its lurid subject matter. Having spent nearly all of their fortune and struggling to survive, the twins opened a hotdog stand, The Hilton Sisters' Snack Bar, in Miami, in 1955, but the business failed in part due to the objections of fellow vendors who didn't like a pair of freaks stealing their business. Short on cash, having been unable to manage their showbusiness earnings responsibly, the sisters decided to bank on the cult revival of their first movie, Freaks. In 1962 they arranged to appear at a drive-in movie theater in Charlotte, North Carolina. Here they were abandoned, penniless, by an unscrupulous agent. A kind grocery store manager, Charles Reid, hired the sisters to work in his shop, where they checked and bagged groceries. Reid bought work dresses for the twins, since all they had were show clothes. On January 6, 1969, after battling the Hong Kong flu for some weeks, the twins failed to report for work. Their boss called the police and the sisters were found dead in their small trailer. Daisy died first and forensic evidence suggested that Violet lived for two to four days afterwards, although this is highly questionable since the twins shared circulation and she would have bled to death much sooner. Having no surviving family, the twins were laid to rest beside a Vietnam soldier named Troy Thompson, the son of an acquaintance. At death, the twins owned but $1,000, a far cry from their formerly vast fortune. Those who met them late in life describe the quintessential "fallen stars": the twins spoke and dressed as they had in their heyday, well into the 1960s.
Stephan Bibrowski, "Lionel the Lion-Faced Man"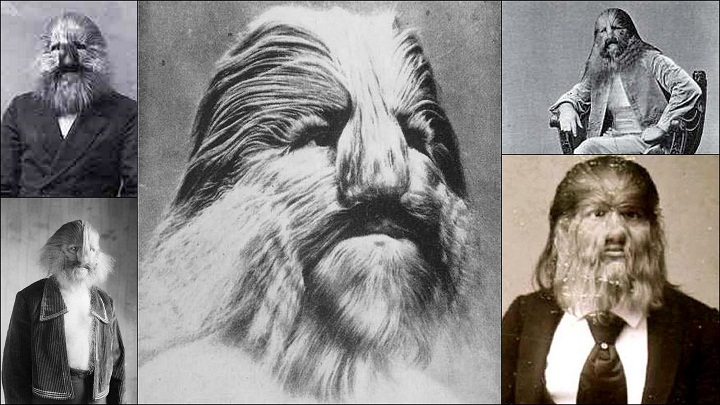 Polish-born Stephan Bibrowski began his American show career in 1901 with the Barnum & Bailey Circus. "Lionel, the Lion-Faced Boy" stood on the platform and told his life story to an intrigued crowd: he had been born in Wilezagora, Poland, in 1890, the fourth of six children who were all normal except for him. When his mother was pregnant, she had seen her husband attacked and killed by an escaped circus lion, thus imprinting her unborn baby with the face of a lion. He was also gifted with the eyes of a feline and could see in the dark. So superstitious were the villagers that the military had to intervene to protect the boy.
Of course, this story was fabricated; there were no lion attacks in Poland in the year 1890, and even the town name, Wilezagora, was made up. Lionel actually came from a suburb of Warsaw and was discovered at the age of four by a German showman known only as Sedlmayer, who took Lionel and his mother to Berlin so the child could be exhibited. While the three were staying in Berlin, Lionel's mother abandoned the boy in Sedlmayer's care and returned to Poland.
Sedlmayer now had carte blanche to exploit this lucrative child freak however he pleased, but his decency prevailed. He removed Lionel from showbusiness entirely and sent him to boarding school in a small German village, away from a curious public. Here, the bright young boy received a proper education and even learned to speak a few phrases in five different languages. When Stephan was eleven years old, Sedlmayer signed a contract with the Barnum & Bailey Circus, and the two boarded a ship to America. Barnum & Bailey's previous hairy man, Jo-Jo, had recently retired, and circus management was eager to replace him with this clever newcomer. Lionel took his place among Leah May, the American Giantess;Liou Tang-Sen and Liou Sang-Sen, the "Corean" Siamese twins; and Charles Tripp, the armless photographer. In 1903, as part of a special showing of Barnum & Bailey freaks at Huber's Museum in New York City, Lionel was booked for $500 a week – about $11,000 in modern money. Surrounded by circus people, Lionel was able to hone his gymnastic skills and was soon as impressive a tumbler as the show's non-hairy acrobats.
Lionel only worked with the Barnum circus for five years, however. In 1907 he returned to Germany, his adopted homeland, to appear at Berlin's famous Passage-Panoptikum wax museum. The nimble and erudite Löwenmenschen(lion-man) enjoyed enormous popularity. He even consented to be examined by the Berlin Society of Anthropology, Ethnology, and Prehistory, where a Dr. von Luschan wrote a full report of him and revealed some interesting details about his condition. Lionel, like his predecessors Jo-Jo and Alice Doherty, was nearly toothless; he had one tooth each in the upper and lower jaw. Not surprisingly, his claim of feline night vision was false as well. He was, in fact, extremely nearsighted and wore glasses when he was not on stage.
In private life, Stephan was a talented watercolorist who enjoyed painting landscapes. As a boy, he had aspired to be a dentist, but knew he could be more successful in the circus. After nearly fifteen years with Coney Island's Dreamland Circus sideshow, he returned to Germany in 1928 and became a German citizen. He died in 1932 of a heart attack.
Grady Franklin Stiles, Jr.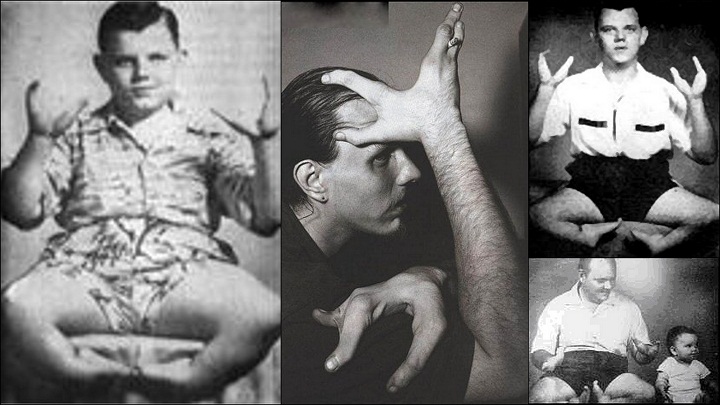 Grady Franklin Stiles, Jr., was born in Pittsburgh on July 18, 1937, the sixth in a long line of lobster-men (preceded by William Stiles, 1805-1888; Jacob Stiles, 1843-1932; Elisha Stiles, 1880-1935; and finally Grady Stiles, Sr., 1912-1988). Grady could not walk and used a wheelchair in public, but could crawl around on his incredibly powerful arms and could perform nearly any task using his "claws". He was married twice to Mary Teresa Herzog and once to Barbara Browning and had four children, two of whom, a boy and a girl, also had lobster-hands. When his eldest daughter Donna was engaged to marry a boy of whom Grady disapproved, Grady shot and killed the boy.
However, Grady escaped a prison sentence on the grounds that no prison was equipped to handle his disability. He was given fifteen years probation, and soon after the trial re-married Mary Teresa and continued to physically abuse his family. In 1992 Mary Teresa mentioned to Grady's son-in-law, a circus employee, that "something" needed to be done about Grady's abusive behavior. On November 29, 1992, he was shot to death while watching television in the family's trailer home. The killer was a neighbor, hired by Grady's son-in-law.
The surviving Stiles family members still call Gibsonton home. Cathy is married to carnival worker Tyrill Berry and is the mother of Misty, born in the early 1990s, who also has the lobster-claw condition (ectrodactyly). Grady III has a daughter, Sara, who does not have ectrodactyly. Cathy, Grady III and Misty still perform occasionally. Cathy has appeared in the films Sisters (1973), Tim Burton'sBig Fish (2003) and Firecracker (2004) as well as in an episode of the series Carnivale.
Ectrodactyly literally means "monstrous fingers" and is generally a highly hereditary condition, as evidenced by the Stiles family, although it can occur spontaneously. The Bell family of Scotland has exhibited the trait for several centuries, supposedly as divine punishment for their ancestor's involvement in the execution of two innocent women accused of witchcraft. Accounts from Africa tell of an entire tribe, known as the Vadoma, who possess ectrodactyl or "ostrich" feet; however, these stories are very likely exaggerated and the "tribe" in question is but a single family. A contemporary celebrity with ectrodactyly is Bree Walker, a newscaster from California who appeared as the Scorpion Queen in the HBO series Carnivale.
Prince Randian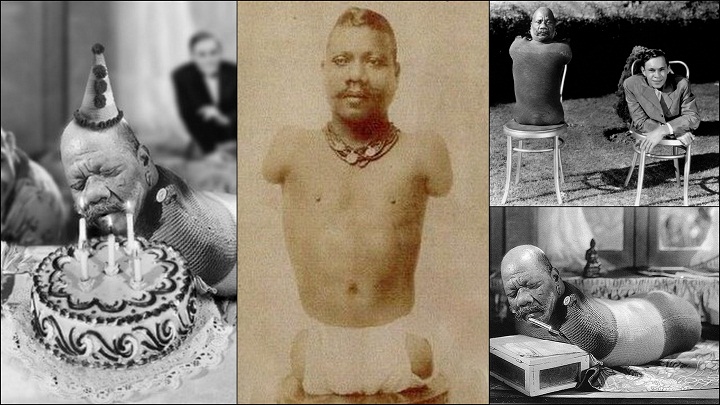 Prince Randian, whose real name has been lost to history, was born in Demarara, British Guyana, in 1871, the child of British Indian slaves. Little is known about his early life or how he was discovered, but it seems his incredible adaptability did not go unnoticed. He was brought to the United States in the 1890s to appear in freak shows, where he demonstrated the ease and facility with which he could shave, write, paint, and roll cigarettes – all without arms or legs. He was even fairly efficient at moving from place to place, wriggling his hips and shoulders in a snakelike motion. Randian is said to have been a skilled carpenter. The box in which he kept his smoking materials was built by Randian himself, using his mouth and shoulders to manipulate his tools, and he often joked that he would someday build his own house.
Randian was a clever and quick witted man who could speak English, German and French in addition to Hindi, his native language. He married early in life to a Hindu woman known only as Princess Sarah, who remained devoted to him throughout his long show career. The couple had four children together and the family eventually settled in Patterson, New Jersey.
Randian died of a heart attack on December 19, 1934. He was 62.
Those are not the only ones. Wish they are but there are much more people like them out there. The point of this post wasn't to list them all, few of them are just enough. Find others and read about them and their lives. Ask yourself again:"Is life worth living?" If there is no answer, ask them the same question, I'm sure they'll know The Answer.
Information and images sources: 1 2 3 4 5
Check Out More Pages of This Post: Page 1 Page 2