A one-man band is a musician who plays a number of musical instruments simultaneously using their hands, feet, limbs, and various mechanical contraptions. The simplest type of "one-man band" — a singer accompanying themselves on acoustic guitar and harmonica mounted in a metal "harp rack" below the mouth— is often used by buskers . More complicated setups may include wind instruments strapped around the neck, a large bass drum mounted on the musician's back with a beater which is connected to a footpedal, cymbals strapped between the knees or triggered by a pedal mechanism, Tambourines and maracas tied to the limbs, and a stringed instrument strapped over the shoulders (e.g., a banjo, ukulele, or guitar). Since the development of Musical Instrument Digital Interface(MIDI) in the 1980s, musicians have also incorporated chest-mounted MIDI drum pads, foot-mounted electronic drumtriggers , and electronic pedal keyboards into their set-ups.
History and meanings
The earliest known records of multiple musical instruments being played at the same time date from the 13th century, and were the pipe and tabor. The pipe was a simple three-holed flute that could be played with one hand; the tabor is more commonly known today as a snare drum. This type of playing can still be heard in parts of rural France, inEngland and among the Basques and Catalans. An Elizabethan-era woodcut shows a clown playing the pipe and tabor. An 1820s watercolour painting shows a one-man band with a rhythm-making stick, panpipes around his neck and a bass drum and tambourine beside him. Henry Mayhew's history of London street life in the 1840s and 1850s described a blind street performer bells on a rail, hammers violin accordions.
First one man band players were guitarist Jim Garner who played guitar with his hands and triangle with his feet, and Will Blankenship who played harmonica, autoharp and triangle shows in the 1930s. In the 1940s, entertainer and clown Benny Dougal used a crude "stump fiddle" (a single string stretched on a stick) with a footpedal-operated pair of cymbals. Blues singers such as "Daddy Stovepipe" (Johnny Watson) would sing, play guitar, and stomp their feet for rhythm, or used a foot pedal to play bass drum or cymbal.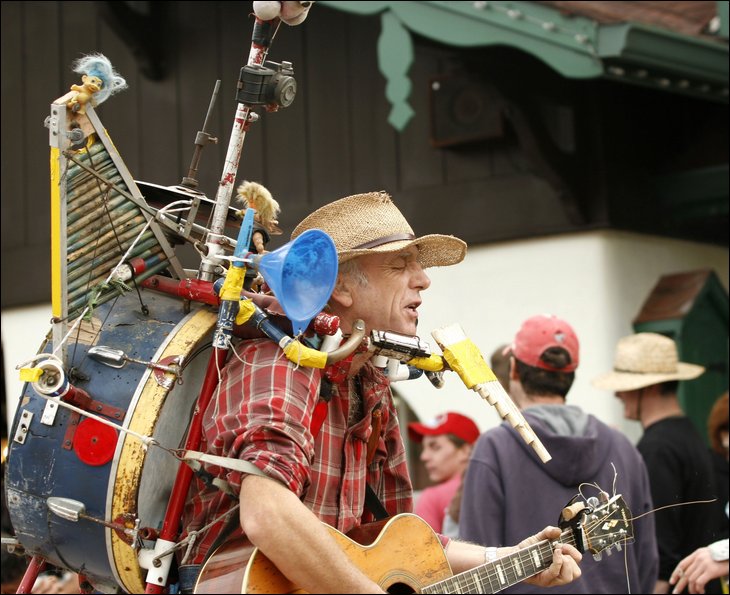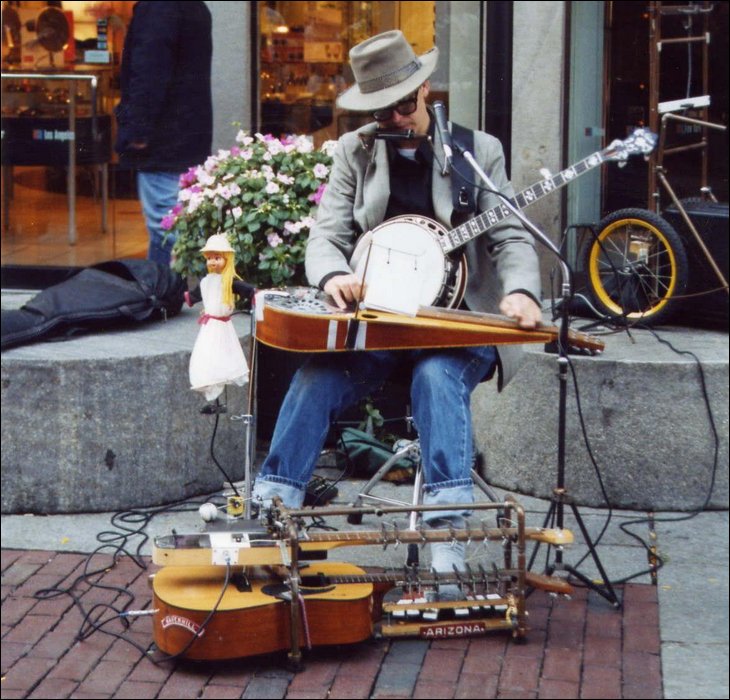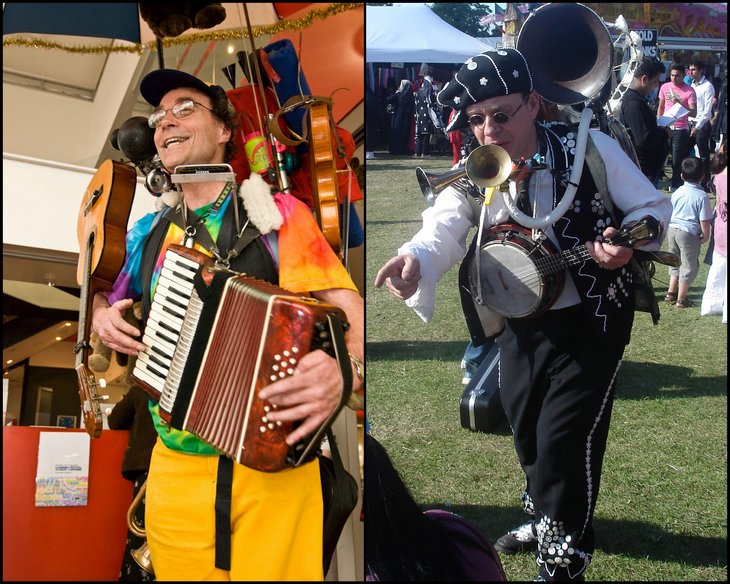 Joe Barrick, who was born in Oklahoma in 1922, wanted a way of accompanying himself on fiddle, so he built a contraption with a guitar neck on a board with footpedals to operate the notes. Subsequent versions of this 'piatar' also had bass guitar and banjo necks and a snare drum which are played by foot-operated hammers. To change notes on the guitar-family instruments, a foot treadle operates a mechanical fretting device.
The simple guitar and harmonica combination (as used by such musicians as Tex Williams, Anton Newcombe, Jimmy Reed, Bob Dylan, Neil Young and Ray Dorset of Mungo Jerry) is so common now that it is rarely considered to be a one-man band.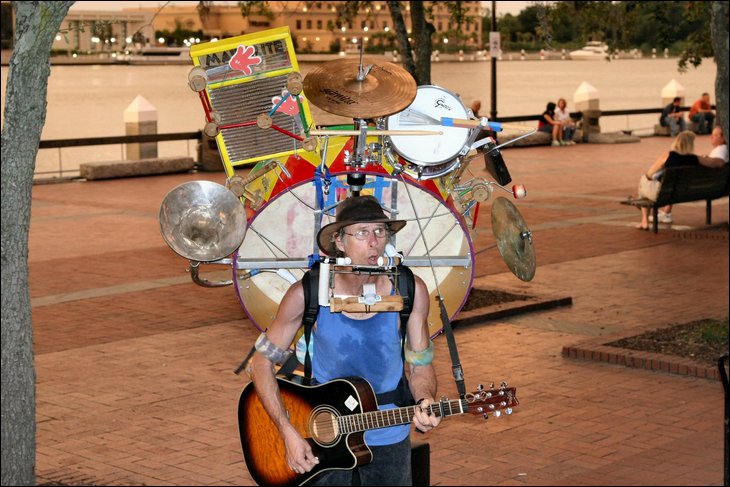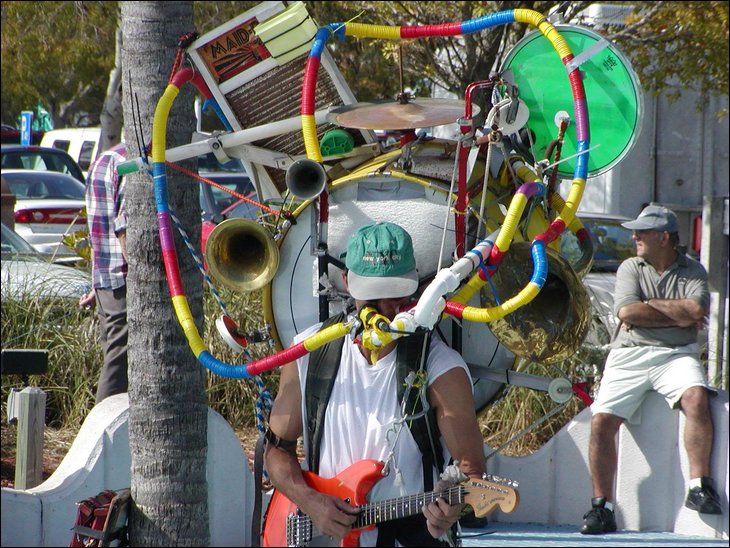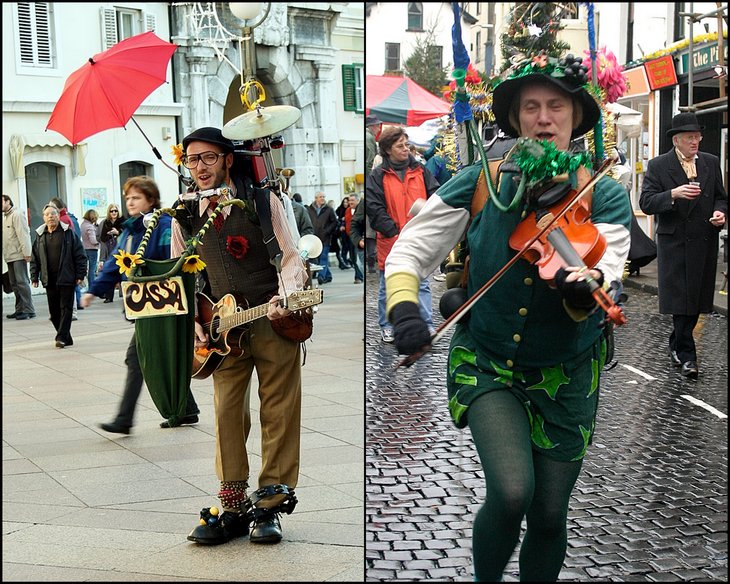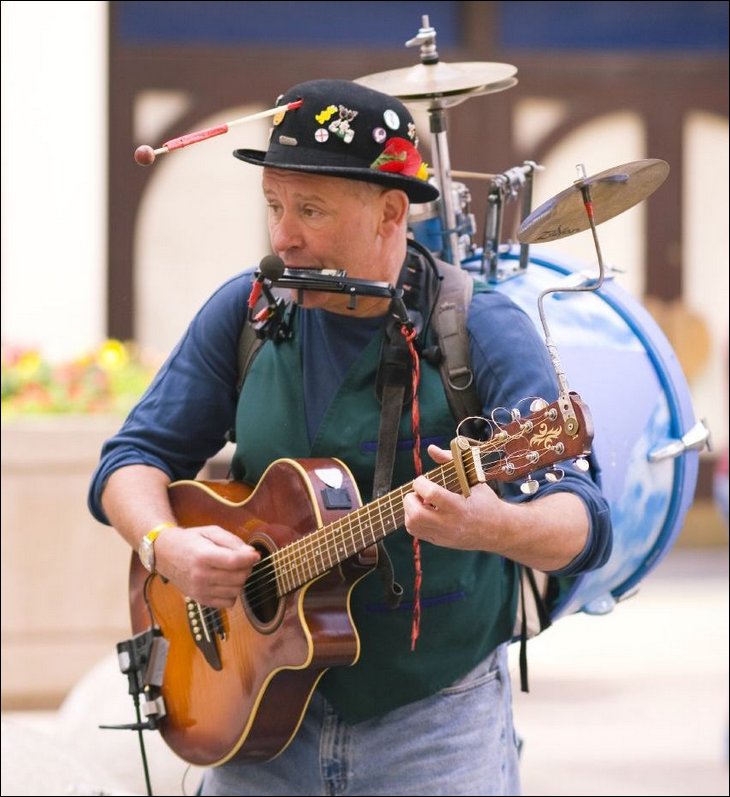 With the rise in popularity of electronic devices, comes innovation with the traditional acoustic 'one man band' instruments. One example is the Farmer Musical Instrument Co!  based in the US. Pete Farmer's product line revolves around various acoustic foot-played percussion instruments that allow musicians to play a full range of traditional drum kit sounds, the Foot drum Deluxe, or tambourine and shaker pedals for tapping out simple beats. With the development of technology and prominence of video sharing sites like You Tube musicians are now able to record each instrument individually and then compile a video as if it were all done in real time.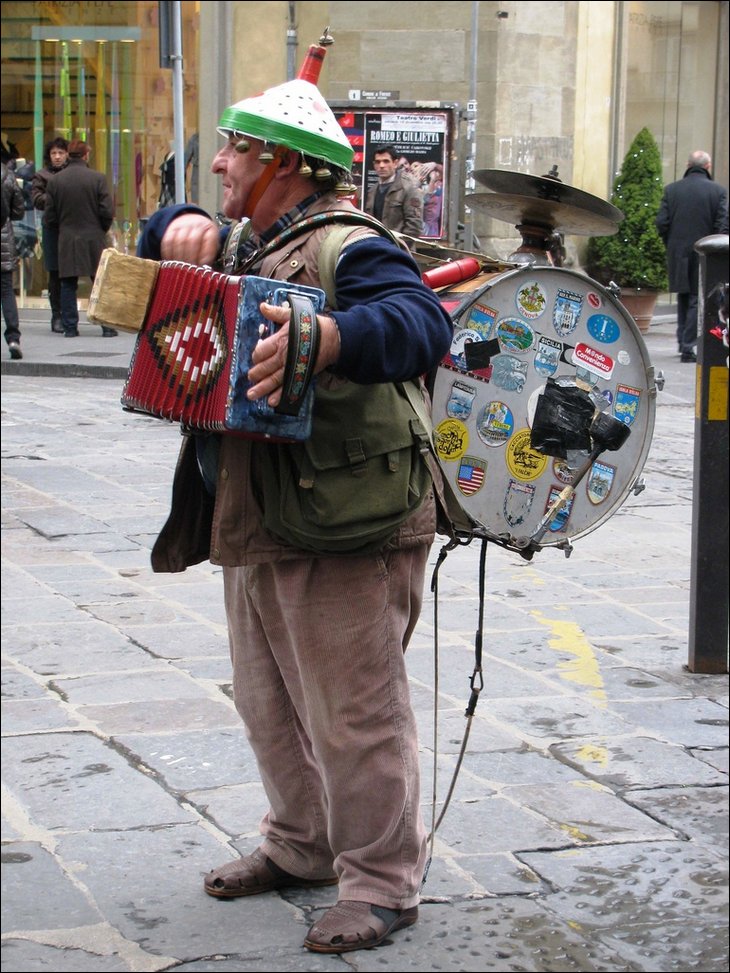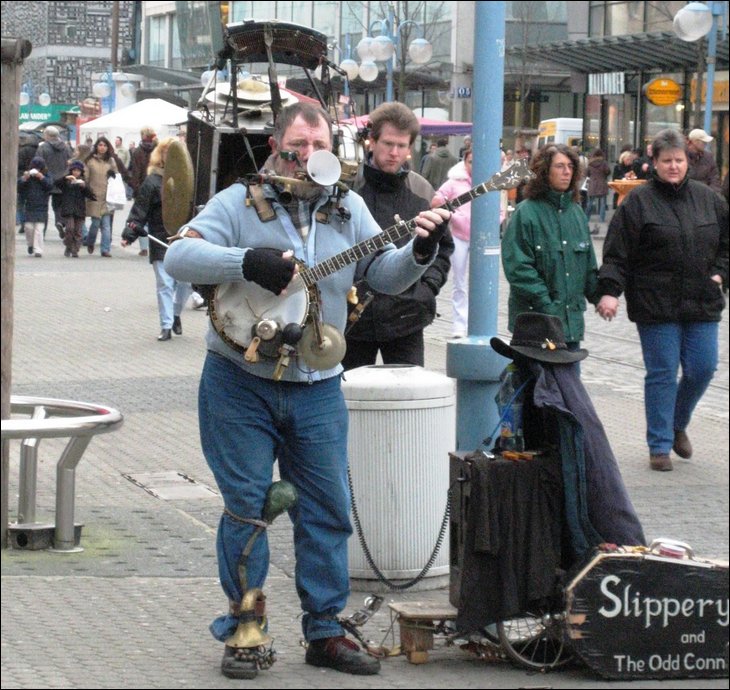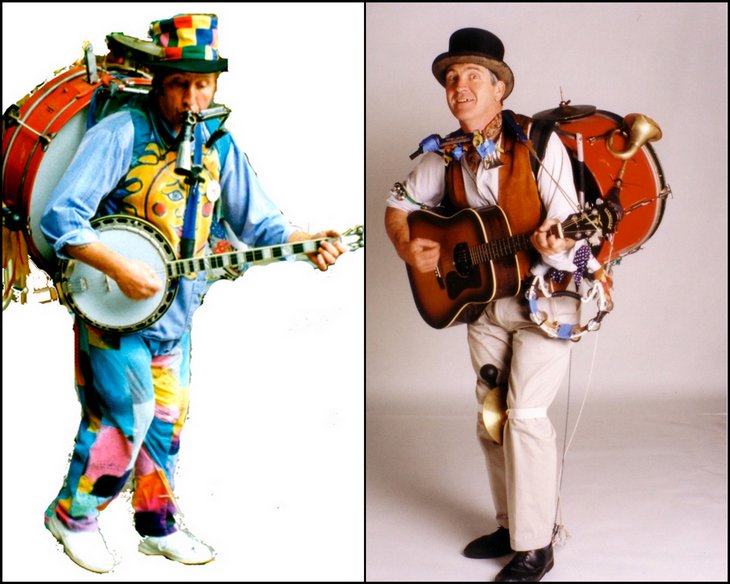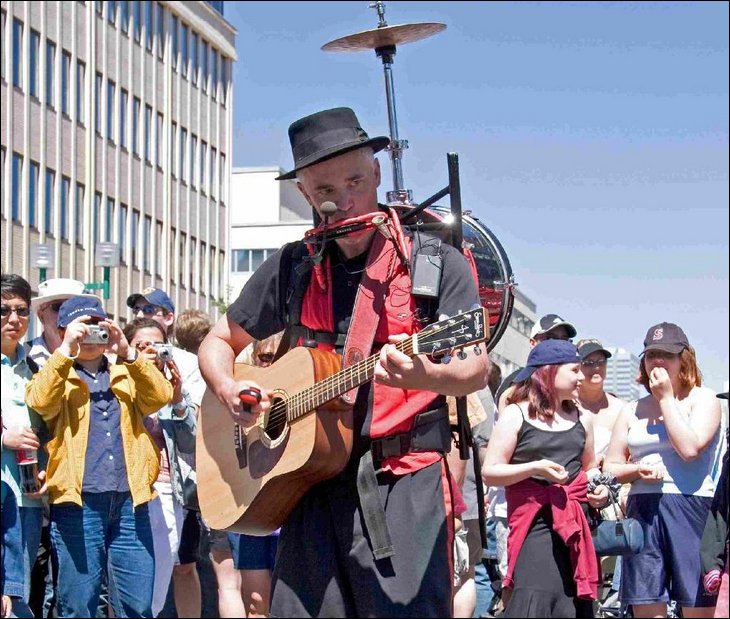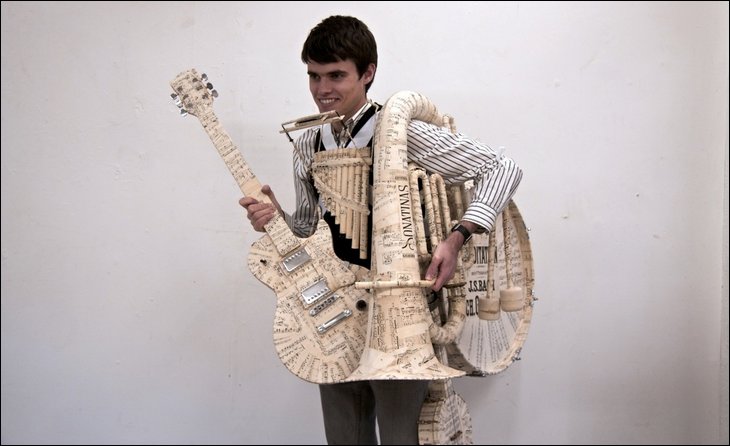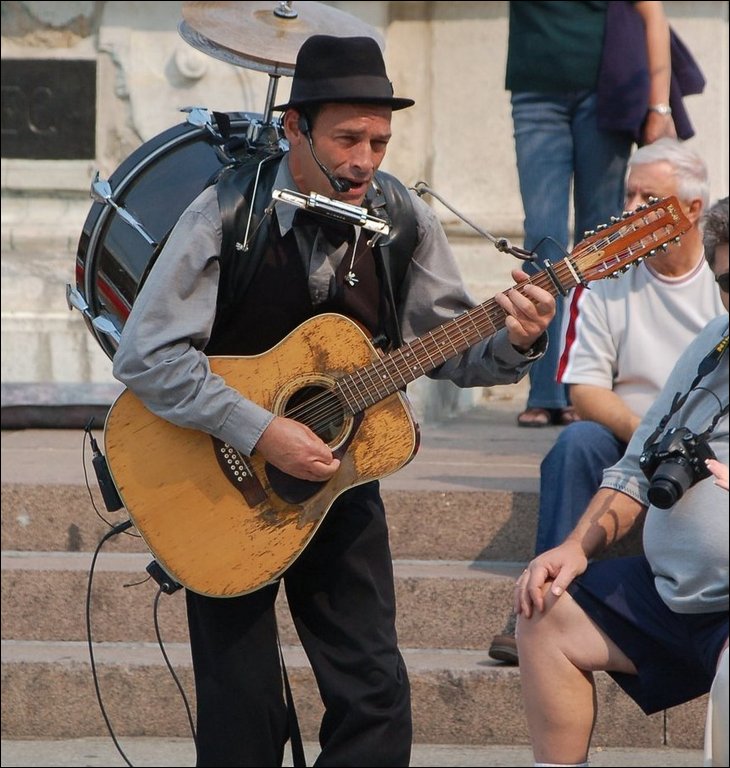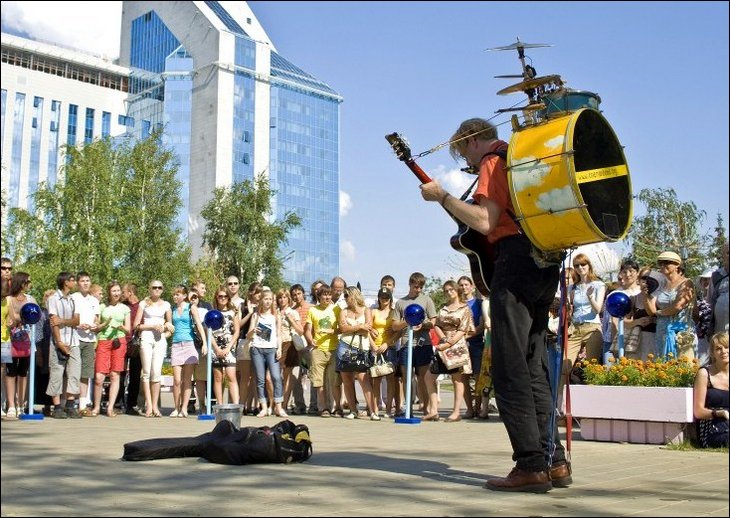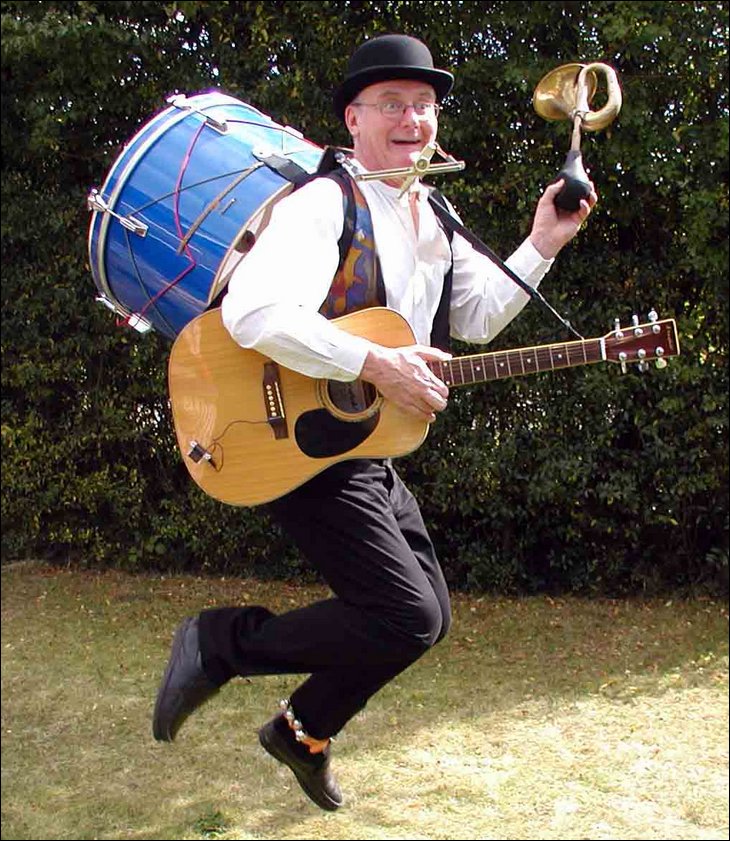 The term "one-man band" is also colloquially used to describe a performer who plays every instrument on a recorded song one at a time, and then mixes them together in a multitrack studio. While this approach to recording is more common in electronica genres such as techno and acid house  than traditional rock music, some rock performers such as Prince, Lenny Kravitz, Paul McCartney, Emitt Rhodes,Todd Rundgren, Roy Wood and Les Fradkin have made records in which they play every instrument. Nash the Slash not only plays all instruments on his recordings, but has been giving solo concerts since 1975, using synchronized drum machines and synthesizers as he plays either an electric violin or electric mandolin.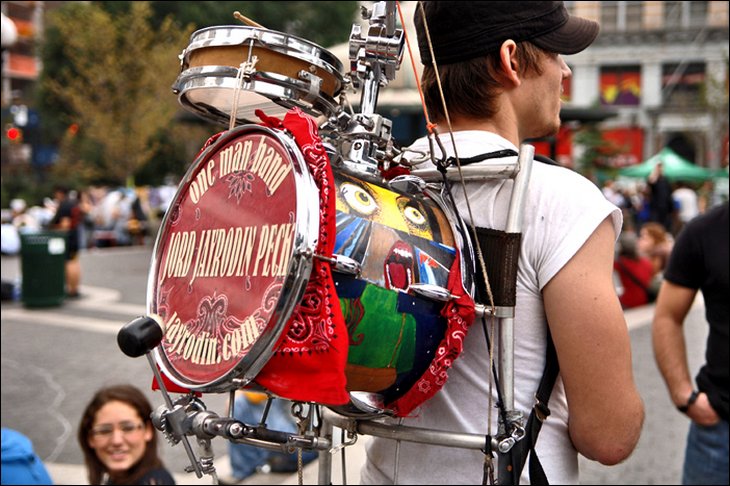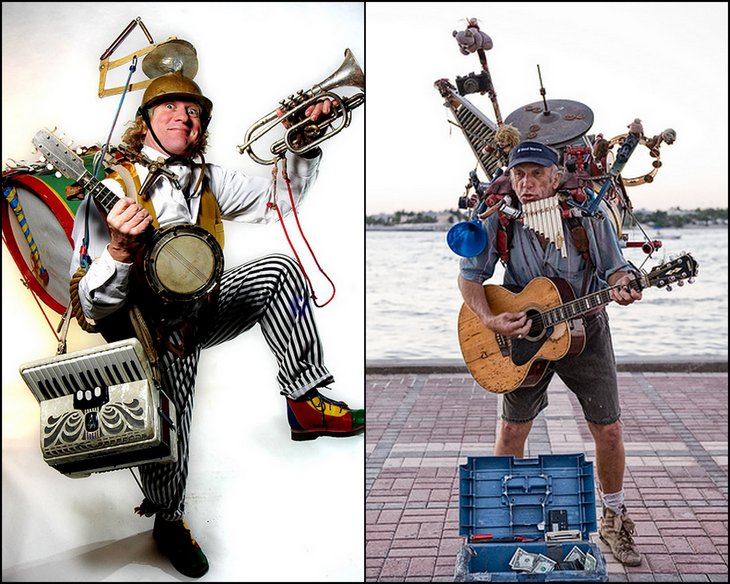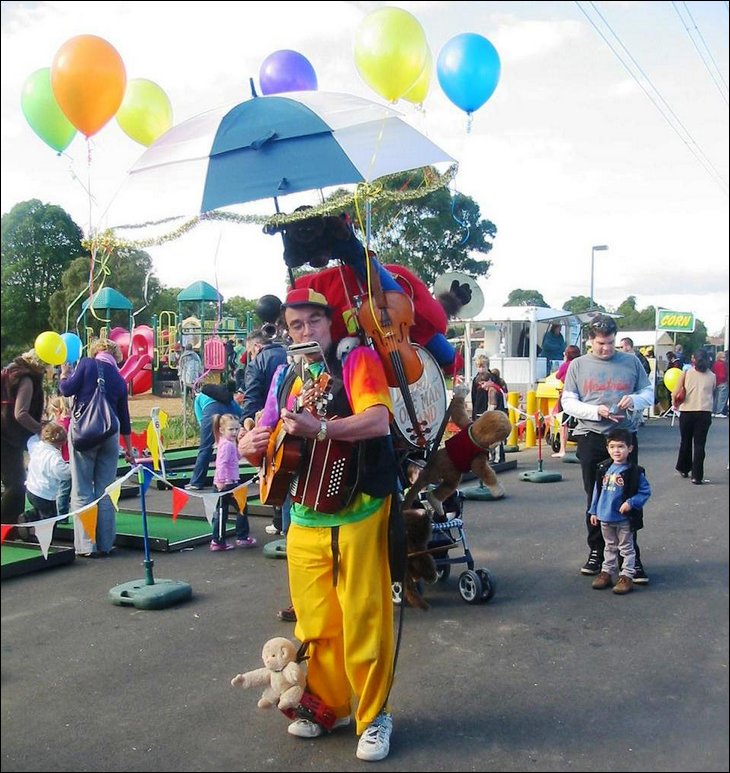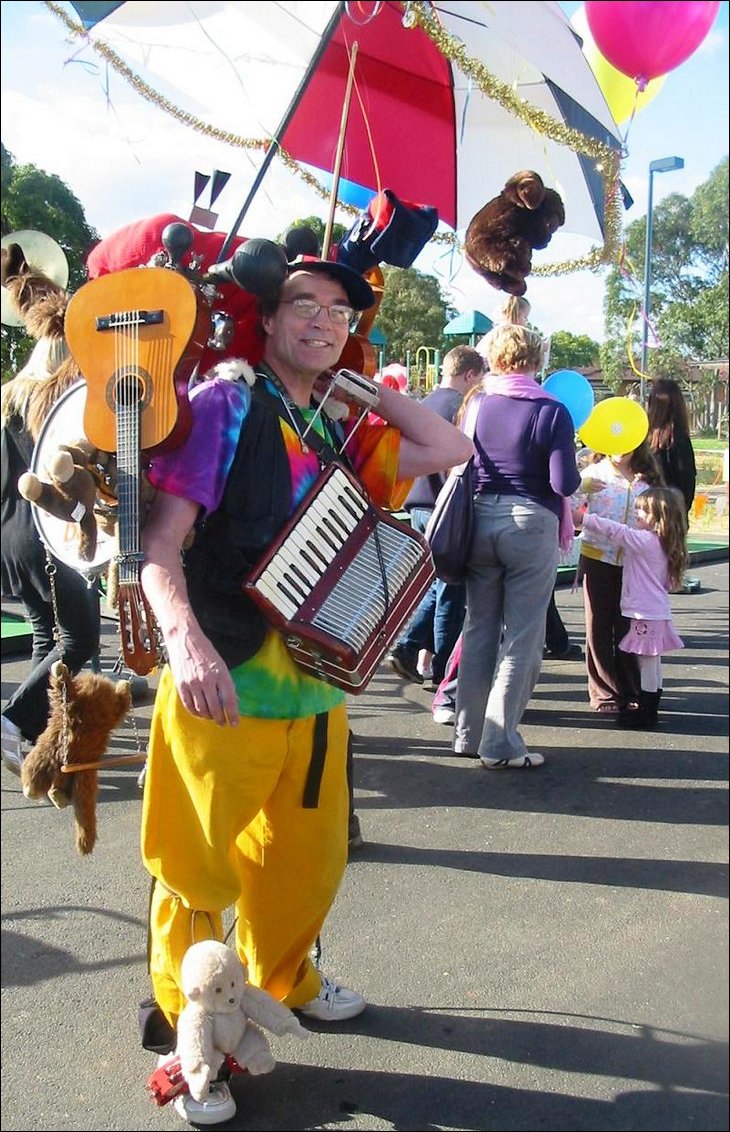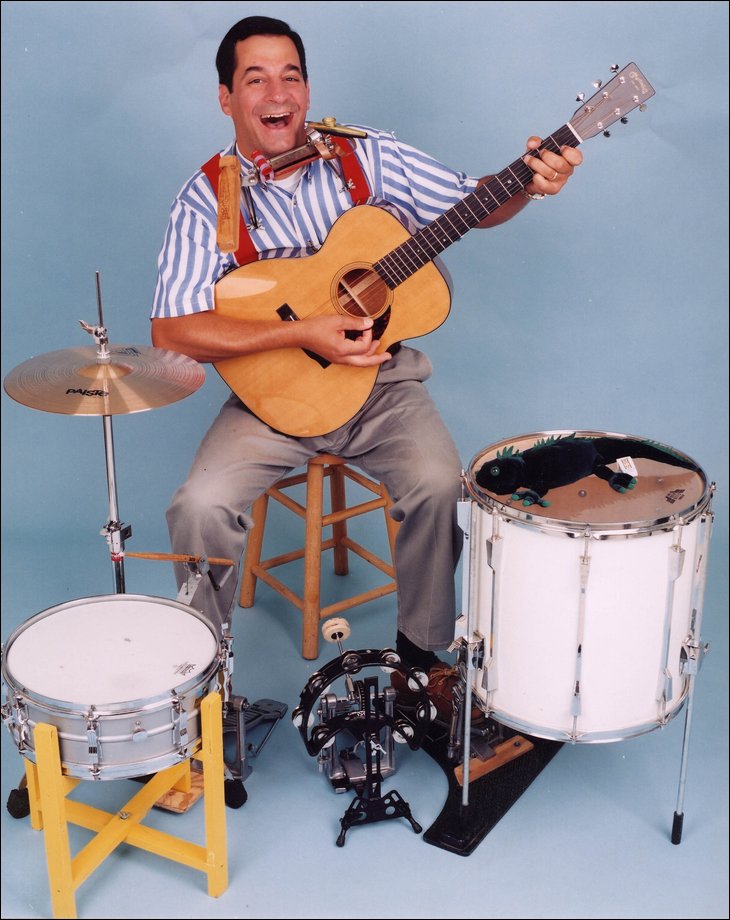 The one-man band exists, in all its uniqueness and independence, as a most elusive yet persistent musical tradition. As a category of musicianship it transcends cultural and geographic boundaries, spans stylistic limits, and defies conventional notions of technique and instrumentation. Defined simply as a single musician playing more than one instrument at the same time, it is an ensemble limited only by the mechanical capabilities and imaginative inventiveness of its creator, and despite its generally accepted status as an isolated novelty, it is a phenomenon with some identifiable historical continuity.
Information and image sources: 1 2 3