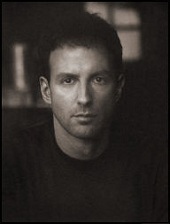 First of all, I have to confess that I highly regret because of the fact that I saw these pictures for the first time in my life just a few weeks ago. For a 20+ years old guy, in the best case, this is not good. As the matter of fact, this is just one of the who knows how many cases that show us how little we actually know and how much is there to find out. But, since these days I'm spending a lot of my time discovering interesting facts and people, I've decided to make this process much, much easier for you guys by giving this artist a little bit more space on my web site.
NICK BRANDT IS ONE of those photographers who is, quite simply, impossible to pin down. Born in England, he moved to California where he became a high profile maker of music videos for stars such as Michael Jackson. It was actually while directing the video for Michael Jackson's 'Earth Song' in Tanzania in 1996 that he first began his love affair with Africa. Having enjoyed a deep connection with animals since childhood, and sharing his Californian home with a menagerie of pets, it was the beautiful and graceful African creatures and the wild, sweeping landscape they inhabit that particularly appealed to Nick. Around five years ago, he decided to leave behind the glamour of the music business to concentrate on becoming a photographer. He made his mind up from the outset, however, that he was not going to attempt to emulate the litany of wildlife photographers who had found themselves drawn to this charismatic continent, but that he would approach his Chosen subject in a highly individual manner. The result was a decision to tackle wildlife in a way that was almost diametrically opposite to the norm: using a black & white fine art style, a medium-format camera and a portrait or wide-angle lens. In short, Nick set about photographing his subjects almost as though they were human, and he himself insists that he is not a wildlife photographer at all in the conventional sense of the word.
Others about Nick Brandt:
"Nick's exquisite photographs arouse deep emotions. They inspire a sense of awe at the beauty of creation and the sacredness of life. It's almost impossible to look through his work without sensing the personalities of the beings whom he has photographed."
JANE GOODALL
(Author, Conservationist, Primatologist, UN Messenger of Peace)
"The photographs of Nick Brandt are both beautiful and haunting. When I first saw them, I grew very quiet, because Brandt's reverence for his subjects was so immediately clear….You are about to enter a world of the imagination where all the animals are real, both fragile and full of grace."
ALICE SEBOLD
(Author of "The Lovely Bones")
"Nick Brandt's photographs of African animals and landscapes are both epic and iconic. It's a vision of Africa that we have not seen before."
MARY ELLEN MARK
(Photographer ("American Odyssey 1963-1999″/ "Twins" / "Indian Circus" / "Streetwise")
"Nick Brandt's photography is beautiful and elegaic in a classic way, and also "strange" in the best sense; those who know East Africa must grieve to think that our own species could be so greedy and unwise as to let such magnificent creatures disappear."
PETER MATTHIESSEN
(Author of "At Play in the Fields of the Lord", "The Tree Where Man Was Born", "The Snow Leopard", "African Silences")
Nick Brandt about Nick Brandt:
Very few photographers have ever really considered the photography of wildlife, as distinctly opposed to the genre of Wildlife Photography, as an art form. The emphasis has generally been on capturing the drama of wild animals IN ACTION, or capturing that dramatic single MOMENT, as opposed to simply animals in the state of BEING.
I've always thought this something of a wasted opportunity. The wild animals of Africa lend themselves to potentially extraordinary photographs, that extend aesthetically beyond the norm of 35mm-color telephoto wildlife photography. And so it is, that in my own way, I would like to go towards correcting that. My aim is that my photographs transcend what prior to this, was a purely documentative genre.
Aside from using certain absurdly impractical techniques, I do one thing that I believe makes a big difference : I get very, very close to the animals. I don't use telephoto lenses, as I want to see as much of the sky and landscape as possible – to see the animals within the context of their environment. That way, the photos become about the atmosphere of the place as well as the animals.
And being that close to the animals, I get a real sense of intimate connection to them, to that specific animal in front of me. I love the feeling, want the feeling, that they're almost presenting themselves for a studio portrait.
Why the animals of Africa in particular? And more particularly still, East Africa?
There is perhaps something more profoundly iconic, mythological even, about the animals of East Africa, as opposed to say, the Arctic or South America). And there is also something incredibly emotionally stirring about the plains of Africa – the vast green rolling plains punctuated by absurdly, perfectly graphic acacia trees.
My images are my elegy to a world that is steadily, tragically vanishing.
Right now Nick is one of the hottest names on the fine art circuit. There is no killing, no life in the raw in a Nick Brandt photograph: rather he looks for the beauty in his subject, and will track animals for days in order to achieve the perfect composition. The result is exquisite images that have already become classics, and the reputation of this photographer is set to grow and grow.
All this and much more beautiful photos you can  find on Nicks official web site